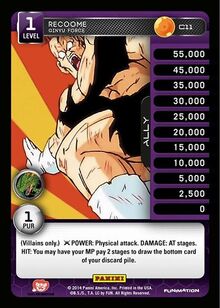 Card Type
Edit
Limit Per Deck
Edit
1
Alien
Original Text
Edit
(Villains only.) POWER: Physical attack. DAMAGE: AT stages. HIT: You may have your MP pay 2 stages to draw the bottom card of your discard pile.
Erratum Text
Edit
None
Official Clarifications
Edit
None
Community Clarifications
Edit
You cannot use Recoome's HIT effect if your MP does not have 2 stages to pay.
Game Rules Links
Edit
To be added